06/09/04 19:38 Filed in:
Films
I like rock movies. Love em in fact; A Hard Days Night, Don't Look Back, The Band's Last Waltz, Woodstock, Monterey Pop, Message to Love (IOW 1970), Ziggy Stardust and on and on.

I'm always looking for the next great one to add to my collection, a great DVD package to add to my list. But what I never get to do (aside from Ziggy Stardust, twice) is watch them at the cinema. So, yesterday, I did both. I added a new movie to my favourites and got to see it on the big screen!

The movie in question is Festival Express. Directed by Bob Smeaton (the Beatles Anthology) this documentary is a combination of old footage and new interviews from the participants. The synopsis is thus: In 1970 a group of musicians played 3 festivals in Canada, travelling to each on a train. In short, they got on the train in eastern Canada and partied, sang, played, drank and smoked their way across the provinces to Ontario, Saskatoon and the final gig in Calgary.

As ever with these rock movies of the late 60s/early 70s it's part historical timepiece and part thundering concert film. This one differs from Woodstock et al because it contains new interviews with the participants, some recalling events with more fondness than others. In particular I'm talking about the misery of promoter Ken Walker, not the most likeable of guys in any event. The recollections of the musicians involved were wholly more happy and the image you get is of one long party, musicians trapped on a train for a day or two at a time amusing themselves by jamming. Oh to be a fly on the wall on that journey.

There were some acts I was looking forward to seeing more than others. I haven't seen much live of the Grateful Dead and was expecting a turgid set of endless soloing but I'm happy to report that was not the case, I really enjoyed their performance and the spectre of Jerry hangs over the film, he seems to be in almost every frame; big smile on his face, an intimate portrait of a much loved man. He didn't have a bad word for anyone and brightened every frame he was in. Janis Joplin is, well, Janis. There's no-one like her and I was almost literally blown across the room watching her; there really are no singers like her left. Her style, a slight screeching vocal, can be challenging to listen to (especially in Dolby Surround sound) but her songs and delivery are what it's all about. She held the crowd in the palm of her hand, the Canadian audiences sat enraptured.

I was looking forward the most to The Band. I'm a huge fan of theirs and have seen precious little footage of them aside from Scorsese's rock masterpiece The Last Waltz. They played at Woodstock but were left out of the original film and the directors' cut. They were never a glamorous band, they looked old even when they were young and hid the pretty-boy looks of leaders Robbie Robertson and Rick Danko as best they could. In fact Danko has a hilarious scene on the train with Garcia and Janis, later in the movie when, totally wasted, he tries to lead everyone in song.

Anyway, they got 3 songs in the film and I was in heaven. Aside from Levon Helm, The Band were in fact Canadian so these gigs were their homecoming. I could sit and watch this band for hours, but this film left me satisfied and rushing out to call my parents who see it in Manchester in 2 weeks. They're going to love it...

What a rare experience, getting to see a rock movie on the big screen, learning something new about each band and discovering a transcendent performance by another artist, Buddy Guy, perhaps the movie's highlight. The slightly bizarre presence of gold lamé clad doo-wop dancing troupe Sha Na Na (they were at Woodstock too for some reason) doesn't detract a bit from the film, in fact it adds a bit of levity.

That train must have been a cool place to be on - no sleep, just good company and good music. If you can see this movie, take the chance. Most of the great past musical events to be committed to celluloid have been discovered; this one could be the last great festival movie to be found.


http://www.festivalexpress.com
...
12/06/04 16:58 Filed in:
Gigs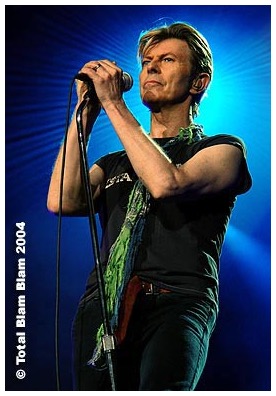 So he's been in America for 7 months. I watched in envy as the tour rolled across the country, flattening all in its path. New setlist additions, new scarves, same old shoes. I couldn't wait to get to the first gig back on European soil.

It turns out I'm severely out of gig practice because, 2 days later, I'm still aching from the sheer exuberance of the performance at the Amsterdam Arena. He's as fresh as a daisy, but I'm getting too old for this. Arriving late I somehow got a great place about 5 rows from the front, no mean feat in a stadium filled with 25,000 fans. The setting was unusual, the stadium roof was on but it was still daylight. As soon as the cartoon kicked in a wave of happiness and contentment descended over me, like I was being transported back to all the gigs I did last year.

I never tire of Rebel Rebel, it really is the perfect gig opener. But then… Panic in Detroit! I'd never heard that live before, such a treat. He complained at us for singing All The Young Dudes, and said as our punishment we had to endure a song from the 80s! He took the piss out of the terrible arena acoustics "You'll be hearing these songs twice tonight, maybe more!"

He was in great form, tons of jokes and filled with enjoyment at being back in Europe. After over 100 gigs I don't know where he finds the energy. There was a cheeky dig at the Yanks he'd just left behind. "It's so lovely to see a crowd filled with such pretty people. Everyone's so pretty. And I should know, I just got back from America! I feel like a man finally finding water in the desert!"

It was such a wonderfully familiar feeling: seeing him enjoying the crowd, Susan bouncing at the front, Cat's infectious grin, Gail's soaring voice, Slick's playing even more killer than it was last year… I can't think of anywhere I'd rather be and am now gutted my next gig isn't until Monaco.

Watching the American reports with excitement at the new setlist additions I tried to avoid thinking about any new songs I might be getting, even refusing to say the names of the songs I wanted to hear the most. I can say it now because he played it: Station to Station. I have never wanted to hear a song more and my god the band nailed it. I had heard it once before; my first ever Bowie gig at Maine Road in 1990. I don't remember that performance of it but I'll never forget this one. This might sound flighty and over-exaggerated but I think I may have had some kind of religious experience during that song! I looked up (way up, the stage was much higher than usual) at him, the returning Thin White Duke throwing darts in lovers' eyes and I wanted that complete and perfect moment never to end.

Diamond Dogs wasn't half bad either. Quicksand completed the trilogy of songs I'd never heard before. All in all, a perfect return to Europe for him and a memorable night for me. Next stop Monte Carlo!


Rebel Rebel
Cactus
Sister Midnight
New Killer Star
Panic In Detroit
Reality
Fame
All The Young Dudes
China Girl
The Loneliest Guy
The Man Who Sold The World
Heathen (The Rays)
Hallo Spaceboy
Under Pressure
Ashes To Ashes
Quicksand
Hang On To Yourself
Station To Station
I'm Afraid Of Americans
"Heroes"
(encore)
White Light, White Heat
Diamond Dogs
Suffragette City
Ziggy Stardust
...