08/08/07 19:16 Filed in:
Gigs
(LT note: after seeing this show I kept buying tickets, seeing him a total of 8 times at the 02)


I've seen my share of gigs over the years but last night was on some other musical level, one I've never been to before. I saw Prince in 1990 and I remember little of it, just craning my neck to try and see a blur of movement as I watched the greatest artist of the 80s at what I thought was the height of his powers. And yet here I am 17 years later and last night Prince, 49 years young, surpassed his 32-year-old self in every way.

The imposing O2 building, formerly the £750m Millennium Dome, towered over me as I approached Greenwich. Inside, the outer circle was buzzing with shops, bars, restaurants and inside that circle was the venue itself. Surprisingly compact due to an insanely steep trajectory my heart sank as I realised this glorified sports hall was full of your average beer swilling working class pretending to be middle class Brits. As with any performer, the ability to feed off a good audience is crucial so I was a little worried. The comfy seats and their attached cup holders made me feel like I was in a cinema or about to watch a basketball game. Usually I'm at the front at gigs, standing as near as I can get to the stage. It's been a long while since I was at a seated venue and there was an air of corporate entertainment to it all. I felt the tension of the audience as a good-natured Mexican wave started and the clock ticked on.

At just before 9pm the lights went off and the crowd roared. The stage, the famous symbol, was in the round so all views were good. On the screens by the speakers, at ceiling level, a clip of the man started playing. It was confusing for a second - after all, who starts their show with a tape of themselves? (Well, ok, James Brown's pre-show tape was his own greatest hits when I saw him a few years ago). The crowd was up on their feet, which was a relief. Sitting down to watch him would have been unbearable. The roar was deafening as the centre of the stage, clouded in smoke, sank and then rose with Prince, dressed in black, carrying his usual Telecaster, stood immovably. Quick as a flash he played a familiar opening chord and it was Little Red Corvette. I can't think of another artist who would display quite such an amount of charming arrogance by beginning a gig by throwing away four of his most famous songs as a 4 minute medley but that's exactly what he did - Corvette, Raspberry Beret, I Could Never Take The Place Of Your Man and Alphabet Street (which included the lyric ad lib, "I'm gonna put her in the back seat and drive her.....to Manchester!" Where did he think he was?! After that he shouted 'Funky London!' at every opportunity). It was an almost old fashioned singalong, just him and the crowd and a guitar. I've rarely seen a gig where the star didn't hammer a hard first song to get the crowd going. But Prince doesn't do things that way.

Out of the stage centre, his band appeared, dressed immaculately in white. The twins, his dancers, gyrated their way onto the front of the symbol. Reviews had said these ladies primary act was to dance around Prince but mostly they didn't - they were just some eye candy working the stage while he was at another end. In fact, the man didn't stop moving all night. I'm going to quote my friend Rex here because I thought of this during the show and he could not be more right. "EVERY time I've seen Prince perform - which has been every opportunity I've gotten for the past 25 years - I'm reminded of the history of popular black music, whether it be a Hendrix or Hazel inspired guitar lick, a Wilson or Brown lifted dance step, or a Mayfield or Redding influenced vocal riff! Prince is a walking, breathing, year-long Black History Month!"

The sound was as good as could be expected, a little muffled and not quite loud enough, in a hangar of a venue like this but it didn't seem to matter. It was a blur of great songs, starting with Cream and continuing with an unbelievable lengthy jam of Musicology. At one point he got half a dozen fans to dance on stage for a few songs, which was distracting but he seemed to enjoy it. You could see that he enjoyed the whole night, constantly dancing and grinning. The premier fan site, Prince.org, reports this morning that the show, while the shortest so far in London at 2 hours, was the best of the ones he's done so far, with the best setlist. I admit, even I was shocked by the quality of the song choices. Some of the songs were truncated, some were played in full, but all were played with power, passion and precision. From the minute he crawled on his hands across to the back of the stage to, my highlight of the night, Controversy, it was a masterclass in stage performance. James Brown may be lost to us now but his essence lives on. I couldn't help thinking that watching this was what it must have been like seeing JB in the 60s or early 70s.

A 45-minute relentless blast of funk before he vanished, leaving everyone breathless. Who else could employ what amounted to mini-intervals mid show and get away with it? It was as if an imaginary rope was attached to each person and he was pulling us up and down, bending everyone at will. It was an honour to see Maceo Parker, James Brown's saxophonist, namechecked throughout the night, play in this interval, an exquisite lengthy version of Wonderful World. Then, with little fanfare, he appeared back on the left circular part of the symbol at the piano, apparently the first time this had been done at the O2. People were sitting, to catch their breath, and were treated to a 25-minute solo piano medley. It felt intimate, somehow. The audience, who usually would have been chatting or taking a booze break, were enraptured. It was an unforgettable show-stealing interlude that even now sends a shiver down my spine just to think about it.

Back came the band with a super hot version of If I Was Your Girlfriend followed by the immaculate Black Sweat and then a surprise choice, Kiss. I heard a woman nearby say 'This is music you listen to after you've had sex'. These three songs were like some horny interlude. Prince shouldn't be hot but he is and everyone knew it. I took a little video on my phone of Purple Rain, which always, charmingly, goes on for a couple of minutes longer than it should. Then he was gone again, down the stage trapdoor. All that was missing was a stage MC with a silk coat over his back, as he kneeled and disappeared. The second encore was a blaze of new and old - Let's Go Crazy and Guitar. Another disappearing act as the roadies hurriedly placed bongos and double snares on the stage for the final song appearance of funk/Latin collective Grupo Fantasma, his support act, which swelled the stage numbers to 13 musicians, 2 dancers and Prince. The 2-hour show felt short, almost. Later he went on to play another 2 hours of covers and jams at the aftershow gig at IndigO2, a small club inside the venue, with Grupo Fantasma, sometimes singing, sometimes just acting as a backing musician.

Such energy in a 30 year old would be impressive but for a man of nearly 50, who played keyboards, piano, guitar and even one song on bass (Give It To Me Baby by Rick James, which he stopped, smiled and said 'you guys don't know that one! I'm old school, I don't like nothin' new!' and then went into Play That Funky Music), it was breathtaking. If you're in any doubt as to whether to try and get a ticket, do it. The question for me now is how long I can resist buying a ticket for any of the remaining 15 London shows because chances like these don't come along often.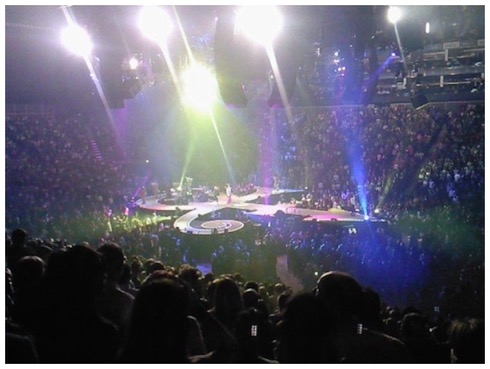 (just with guitar)
Little Red Corvette
Raspberry Beret
I Could Never Take The Place Of Your Man
Alphabet Street
Sometimes It Snows In April

(band join the stage)
Cream
U Got The Look
Musicology
Pass the Peas
Give it 2 Me
Play that Funky Music
I Feel For You
Controversy
Housequake (snippet)
Wonderful world (Maceo solo)

(just with piano)
Somewhere Here On Earth
Diamonds & Pearls
Beautiful Ones
How Come You Don't Call
Condition Of The Heart
Do Me Baby
I Wanna Be Your Lover (with band)

(off piano, back on centre stage)
If I Was Your Girlfriend
Black Sweat
Kiss
Purple Rain

(Encore 1)
Let's Go Crazy
Take Me With You
Guitar

(Encore 2)
Get On The Boat

...